IDEAPLAY P30-PLUS Electric Mountain Bike
IDEAPLAY P30-PLUS Electric Mountain Bike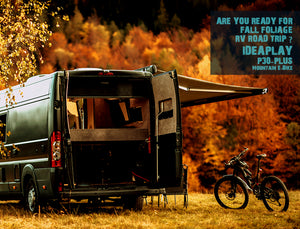 Bikes are a great means to explore the beauty of nature without being detrimental to the environment. However, ebikes have now replaced simple bicycles in many regions around the world but they are also known for providing the same interactive experience as bicycles. Mountain ebikes are a beefed-up version of ebikes that are essentially used for venturing into the wilderness. They are sometimes also referred to as fat tire ebikes due to their signature beefy tires that are best capable to counter off-roading threats. Since the fall foliage season is in full bloom, therefore, it makes sense that we talk about an ebike that'll let you fully enjoy the mesmerizing beauty of red & rusty leaves.
Let's be honest with each other, there are many mountain ebikes available out there but almost none of them can be categorized as affordable. IdeaPlay's mountain ebike has been particularly made for enthusiasts who want an affordable yet feature-packed bike that won't hesitate to counter tough off-road tracks. Oftentimes, companies have to make some sacrifices on the aesthetics of a product to keep the price low but that is certainly not the case with IDEAPLAY's ebike that is every bit as stylish as it is compact. The mountain bike is primarily marketed to be used by men mainly because of its step-over frame, but women too won't have any difficulty using it for their day-to-day needs or just to explore the wonderful colors of nature in fall foliage season.
It is an obvious fact that electric bikes aren't complex machines, but they do have some technical components whose specifications comprise great importance for some people. IdeaPlay's mountain ebike has a 350 W electric motor that is mounted right in the center of its rear wheel. Since it is a hub motor, therefore, the power delivery is instant which is great for climbing steep surfaces. The top speed is limited to 20 mph which is just for electric mode only, you can further enhance it by pedaling more vigorously. Moreover, the ebike comes equipped with three different pedal assist modes that take a considerable burden off the rider's leg by providing electrified assistance. In addition to the three pedal assist modes, the 6-speed gearing configuration has also been integrated just to provide you with more customization options for your rides.
The overall riding experience is quite pleasant since both the suspension and tires are specially made to tackle harsh road conditions. The 26" fat tires have wide grooves and ample grip over wet and uneven surfaces which ultimately provides the rider with the confidence he/she expects from a mountain ebike. Apart from the beefy suspension and tires, the wheel spokes and the wheel itself have been carved out of aluminum which makes sense considering the purpose for which IdeaPlay's ebike is made.
At the ebike's heart lies an 8.0AH Li-ion battery that has enough juice in it to last for 22-40 miles. Needless to say, the expected range depends greatly on how frequently you use the electric-only mode and how hard you push the ebike on pedal assist mode. Nevertheless, 22-40 miles expected range is enough for most people who will purchase this ebike for casual trips in seasons like the fall foliage or short camping trips. The compact & removable battery can be fully charged in 6-7 hours which is what the industry standard is.
All in all, IDEAPLAY's ebike is a great affordable option in a market that is filled to the brim with ebikes bearing hefty price tags. The features, overall capabilities, and the riding comfort are all at par with the much pricier options and therefore IDEAPLAY's mountain ebike has earned my vote of confidence.
For More Info About Fall Foliage 
Chris & Ting consultant inc